Amy Jo Palmquest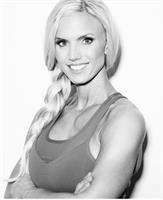 With a degree in Exercise Science and Nutrition and 10 years of experience as a Certified Trainer and Nutrition Coach, I am qualified to customize programs tailored to meet your individual needs. Whether it is an old nagging knee injury or a chronic health issue, be assured that with proper guidance, it can be overcome. My ability to encourage, coach, and motivate is derived from the commitment I make to my clients to see them reach their goals. So make a decision to join me today; and begin to see the transformation!
Amy Jo Palmquest instructs the following:
You will need your boxing gloves for this Signature Kick A** workout. Sweat, hard work and lots of punching! Condition yourself to move quicker, perform faster and drop body fat with this class!