Miranda Smith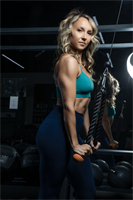 Miranda Smith instructs the following:
This is a fast pace, FAT burning cardio circuit! The Trainer focuses on limited breaks while pushing you from exercise to exercise. A great morning workout!




Functional training using TRX straps and your body weight for an ultimate Full body and Core workout! Come check it out!




This class is all Upper Body! Time will fly as you work your way from station to station to complete a series of exercises that are sure to tighten and tone every inch of your upper body. This is the ultimate toning class for all levels, beginner to advanced.