Myra Edwards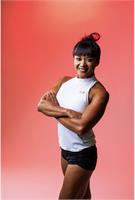 Myra has two decades of experience teaching fitness classes. She's been an instructor at several gyms where she's well known for her motivation and encouragement while coaching.
She holds several certifications that include, National Personal Training institute (NPTI), TRX, Turbo Kickboxing and more!
She has also placed in the Top 3 for Fitness Competitions.
Whatever your goal may be, she has the knowledge and experience to get you there!
Myra Edwards instructs the following:
HIIT stands for High Intensity Interval Training! Exercises performed as fast as you can for a small amount of time, with timed active recovery in between.




Great class for any client that wants to strengthen their core and low back.




Get your pump on in this class as we drop the heart pounding cardio moves and focus on building your Booty through strength training! Building a booty takes heavy weights, unique angles, with strict form. You want a booty, then the Booty Shop is for you!




Balance your body, mind, and soul with this challenging, mind-clearing class. Focus on stretching, inversions, and yoga moves in our peaceful studio. This class is designed to open up your posture, increase your flexibility, remove stress, and improve your balance.