Myra Edwards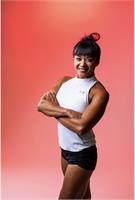 Myra has two decades of experience teaching fitness classes. She's been an instructor at several gyms where she's well known for her motivation and encouragement while coaching.
She holds several certifications that include, National Personal Training institute (NPTI), TRX, Turbo Kickboxing and more!
She has also placed in the Top 3 for Fitness Competitions.
Whatever your goal may be, she has the knowledge and experience to get you there!
Myra Edwards instructs the following:
Grab your boxing gloves, you'll need them! This class combines GLUTES and BOXING. Burn fat and build the Booty at the same time!




Great class for any client that wants to strengthen their core and low back.




You will need your boxing gloves for this Signature Kick A** workout. Sweat, hard work and lots of punching! Condition yourself to move quicker, perform faster and drop body fat with this class!




We're making some changes! This Power Yoha womkkk definitely challenge you! Balance your body, mind, and soul with this challenging, mind-clearing class. Focus on stretching, inversions, and yoga moves in our peaceful studio. This class is designed to open up your posture, increase your flexibility, remove stress, and improve your balance.